Bonded DSL
Combine two or more lines together, to get resilience and speed for far less than the cost of a leased line!
If your single connection is not sufficiently fast or reliable & fibre is still unavailable to you, you should consider Bonded DSL Broadband.
FREE Technical Advice
Call:
020 7517 4900
or Request a call back
Satisfied Clients
"Initially we went with a 2 way satellite broadband service, which met our needs, but was very expensive and due to high lag times didn't give a great user experience. In February we signed up for Bonded DSL with Watchfront. The setup process was painless and the improvement and cost saving was significant. In early 2009 we doubled the number of lines due to increased bandwidth requirements. There were some problems during this upgrade, (not caused by Watchfront), and they were dealt with efficiently and patiently by the Watchfront team. We now have a fast reliable service with the bandwidth that we need…" Read more
Richard Wallace – Itec
Faster & More Resilient Internet Connection
Bonded Broadband is achieved by combining more than one broadband service together to allow all traffic to and from your premises to be shared between the available connections. We can provide bonding for any of the broadband services we offer, indeed many customers use a mix of services to give higher resilience.

Using our Firebrick FB2900 as the tail end equipment (in your premises) speeds of up to 200Mb downlink, 50Mb uplink by using 3 FTTC connections.

We recommend that no more than 4 lines are bonded together using the FireBrick, any more and the benefits start to diminish. If a line fails, the FireBrick automatically routes traffic over the remaining lines.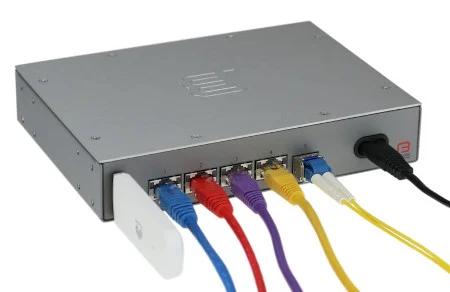 "Let's talk about your requirements.
We're easy to talk to, and are here to help.
Click to call now 020 7517 4900"