Private Clouds & Virtual Machines
Bespoke & Fully Managed Environments To Suit Your Needs!
FREE Technical Advice
Call:
020 7517 4900
or Request a call back
Satisfied Clients
"Watchfront are a fine bunch of chaps. They provide a sterling service dealing with wholesalers which gives us less headaches and do so in a timely manner. We recently had to provision a custom wide are network for 20 sites across Hampshire. The Watchfront solution was chosen due to their ability to provide an aggregated DSL solution that actually works. This solution was able to give a Layer-2 solution directly to our cloud platform which resides in their Maidenhead datacentre. Watchfront provided a cost-effective solution in a punctual manner which we are very happy about…" Read more
Roger Shepherd – ItQED
Power as Many VMs as You Want, and Configure Your Cloud Environment to Best Suit Your Business Needs
Watchfront can provide various Virtual Machines (VM) or the means and technical know to build your own private cloud.
We are more than willing to understand the needs of the customer and provide a solution that will fit their requirements precisely.

We have various resource options for Virtual Machines. The resource options are scalable and if you require more, we can change this quite easily for you.

Through our excellent colocation offerings and support we can produce a solution which can give you vast storage with high computational power where you can produce and manage your own platform of Virtual Machines. This is also know as a private cloud.

We offer both VM or private cloud or a combination of both in either of our Maidenhead and/or Amsterdam data centres.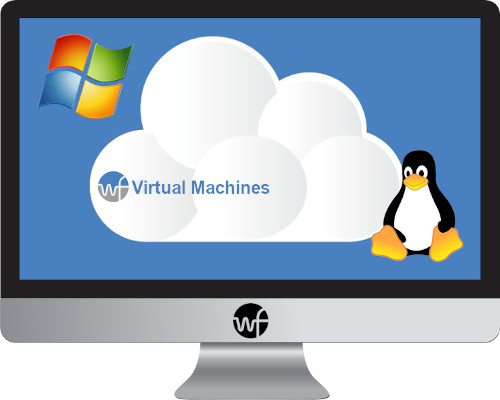 Pricing
Designed, built, owned, and maintained by Watchfront. Machines are handed over typically with CentOS (alternatives are possible to suit customer requirements) and a user-controllable FireBrick FB6000 firewall port. Click for pricing
Features
Dedicated Resources
Guaranteed compute resources, high performance, low latency and control with our custom built Rack Servers and Firebrick hardware firewall. Plus, take advantage of our cost effective, vast and secure data storage.
Fully Managed
We set up, manage and maintain your environment for you, providing personalised support by the engineers that set up your environment. No call centre to deal with, that doesn't have first hand knowledge of your environment!
Totally Bespoke
We offer free consultation from our experienced engineers from the very beginning,
designing your perfect private cloud from scratch and building it ourselves, in house.
Isolated Environment
Isolate not only compute resource but also storage and networking, giving you total control and flexibility over resource allocation and enhanced cloud security.

"Let's talk about your requirements.
We're easy to talk to, and are here to help.
Click to call now 020 7517 4900"
Industry Challenges
Healthcare
Regulations and compliance laws for the healthcare industry are in a near-constant state of change. Keeping up with this changing regulatory landscape is an ongoing challenge.

Some changes included
Better protection for patient data and immediate notification to patients of any breaches.
All medical and insurance claims records now need to be kept confidential for 6 years.
Other records, including audit trails now had to be stored and secured electronically for 10 years.
These new rules applied are regardless of a company's role in the healthcare system and changes to financial penalties for any breaches of patients privacy, allows for substantial fines in the millions for offences which had previously only incurred a slap on the wrist.
Financial Services
Security remains a staple concern of the finance industry. Designing a secure private cloud infrastructure, allows finance organisations to focus on their business without worrying security breaches.
The public cloud's lower security and reliability renders it a risky choice for data sensitive operations, so a private cloud solution seems to be a better choice.