DrayTek VigorAP 918R
£248.00 Ex. VAT
DrayTek's VigorAP 918R WiFi access point offers a reliable rugged outdoor solution. Boasting an IP67 rated casing, the AP918R can be installed in any outdoor environment. With up to 866Mbps + 400 Mbps total wireless bandwidth, this access point is able to connect up to 256 clients.
Advanced auto configuring wireless Mesh allow the AP918R to seamlessly integrate with up to 8 other DrayTek VigorAP access points. What's more the AP918R allows users to access an easy to use central management system via DrayTek's Vigor ACS cloud based network to let users easily configure, maintain and update their entire network.
The DrayTek VigorAP 918RD provides a secondary LAN port with PoE to power an additional PoE device.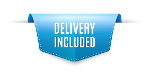 Out of stock